Our spirits & wine appraisers, counterfeit wine identification specialists and wine fraud investigators produce professional wine appraisal reports.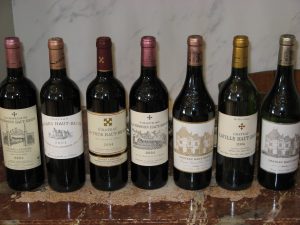 Winery & Wine Appraisals specializes in expert appraisal and spirits & wine investigator services. Our clients request our liquor and wine appraisal services for many purposes. To learn more about our wine & spirits appraisal services please watch our wine appraisal education video. Our professional wine appraisers prepare wine appraisal reports most frequently for the following client issues:
INSURANCE – Loss Claims and New Policies: Wine appraiser Tom DiNardo has performed wine appraisal services for flood, heat, freeze and other catastrophic damages. Most recently, he has been working with various California wild fire victims providing wine appraisals assistance with their loss claims. He also provides Cause & Origin Investigations, Scope of Damage Evaluations, and Fraud Investigations (Special Investigations Unit – SIU) services.
PURCHASE & SALE AGREEMENTS – Buying or Selling: Wine appraisals as well as winery, distillery, and brewery appraisals are often required by individuals and other business entities for purchase and sale agreements.
TAX ISSUES – Bankruptcy and Charitable Contribution Tax Deductions: Our firm provides professional appraisal services for individuals and government entities. If you have donated items in excess of $5,000 dollars to your favorite charity or nonprofit you will be required to file additional Internal Revenue Service forms along with your 1040 tax return.
GOVERNMENT SEIZURES – Tariff, Taxation and Law Enforcement Issues: Winery & Wine Appraisals has provides our services to people facing tariff and taxation issues. We have also worked with local law enforcement, the US Marshal Service, Customs & Border Protection and law firms regarding government seizures.
BANKS & CREDIT UNIONS – Collateral Loans and Foreclosures: Banks can and do often require that wine appraisals be performed on assets prior to their approving loans.
LAW FIRMS – Probate, Wills, Estate Planning, Divorce, Contested Assets, and Litigation: Our firm has worked in partnership with attorneys and law firms regarding all of these matters. Divorce is perhaps the most common legal issue in which our firm provides our professional services.
APPRAISAL REVIEWS – An appraisal review is the written review of another appraiser's written wine appraisals and their work file. We rely exclusively upon the current Uniform Standards of Professional Appraisal Practice (USPAP) to either confirm or deny the appraiser's conformance with this federal law. Appraisal Reviews are most often used by attorneys and law firms when a dispute or litigation results from contested issues regarding prior stated or published valuation results.
EXPERT WITNESS – Unfortunately, adversarial parties may not arrive at a binding legal agreement. Our expert witness services can and do provide the final word. Certified sommelier and wine expert Tom DiNardo is a Daubert (Federal Court Rule 702) qualified expert, who has testified in federal courts.
Wine Fraud & Counterfeit Wine Identification
Over the last ten years wine fraud has dramatically increased as well as the presence of counterfeit wines. Many fine and rare wine collectors has suffered as a result of this type of fraud and crime. Our counterfeit wine identification specialists and wine fraud investigators are here to serve you. Wine investigator Tom DiNardo is a former law enforcement officer, trained investigator, and International Association of Special Investigations Units (IASIU) member.
Do you have wine inventory or a wine collection you are looking to sell? Winery & Wine Appraisals can assist you with that challenge. Please visit our Liquidation Services page.